Earn Money For Your Heating
The Renewable Heat Incentive (RHI) is a government payment to encourage uptake of heat pumps. If you have a heat pump installed in your home that uses renewable energy, like ours do, you may become eligible. The amount of heat your renewable energy system is likely to produce is measured and used to decide the sum of your fixed payment from the government. Another factor that is taken into account is the type of technology and the size of the system.
For a full explanation of the RHI, please click on the video link below. Ultimately, it means you can earn a fixed income for every kilowatt of heat you produce. To get an indication of the Renewable Heat Incentive (RHI) payment you may be entitled to, the fuel cost savings you might make and the payback period for your capital investment in a heat pump, please use the RHI Calculator Tool link below.
The RHI calculator tool will ask you to answer a series of questions about your property and your existing fuel type. Most of these questions you will be able to answer immediately. You will, however, be asked for the ground floor area of your property in square metres, so you may wish to give some thought to this before opening the tool.
The calculator tool uses a series of default values relating to alternative energy costs and the technical specifications of the heat pump system. You do not need to concern yourself with these if you do not want to, but if you are interested in finding out what these are, please click on the RHI Calculator Tool FAQ link below.
Finally, please remember this RHI Calculator tool only gives an indication of costs and benefits of a heat pump for your property (although we have gone to some lengths to try and make the figures as representative as possible). An accurate assessment can only be made after a site survey, which we will be happy to arrange if you contact our office. You can call us on 01303 248648.
The link below takes you to the Reina Group Tools website.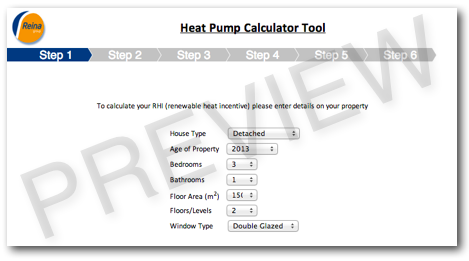 Frequently Asked Questions
[toggle title="How many running hours for space heating is the calculation based on?"]
It is based on 1314 hours annually for space heating.
[/toggle]
[toggle title="What  are the running hours for hot water?"]
This is calculated using the method as stated in MIS3005 (Microgeneration Certification Scheme guideline document).
[/toggle]
[toggle title="What is the design flow temperature?"]
This is based on 45°C flow prior to a full MCS design & knowledge of your emitters.
[/toggle]
[toggle title="What heat emitter guide rating is it based on?"]
Based on the design flow of 45°C it would calculate to a 4 Star rating.
[/toggle]
[toggle title="What SPF (seasonal performance factor) have you assumed?"]
Based on the 45°C flow the SPF for an ASHP would be 3.0 and for a GSHP, 3.7.
[/toggle]
[toggle title="The cost of boreholes seems excessive?"]
This may be the case but we have designed to a worst case scenario under MCS guidelines (MIS3005). The final meterage may well be shorter following full design, which would in turn reduce the cost. Our dedicated page on the cost of boreholes explains more.
[/toggle]
[toggle title="What type of heat pump have you priced for?"]
We have used MCS approved products from approved manufacturers to give an Indicative installation cost. The final choice of make & model will increase / decrease this slightly.
[/toggle]
[toggle title="Does the installation cost include for an upgrade of the whole heating system?"]
No, we have covered a few issues that you will encounter but not the cost of replacing some / all of your emitters (radiators). In the case on some retrofit schemes replacement of emitters may be necessary. More information can be found on our dedicated page.
[/toggle]
[toggle title="Not all ground conditions are the same, what Lambda value (Wm/K) are the length of collectors based on?"]
We have assumed a generic 1.7 for horizontal & 2.4 for vertical but would advise a geological survey in advance of installation.
[/toggle]
[toggle title="How have you determined the heat loss of my building?"]
We have assumed guideline values based on the age of property and that RHI criteria regarding loft & cavity (if applicable) insulation have been adhered to.
[/toggle]