Published: 22/01/2021
The Reina Group partner with Ovo Energy in their Zero Carbon Heat Trial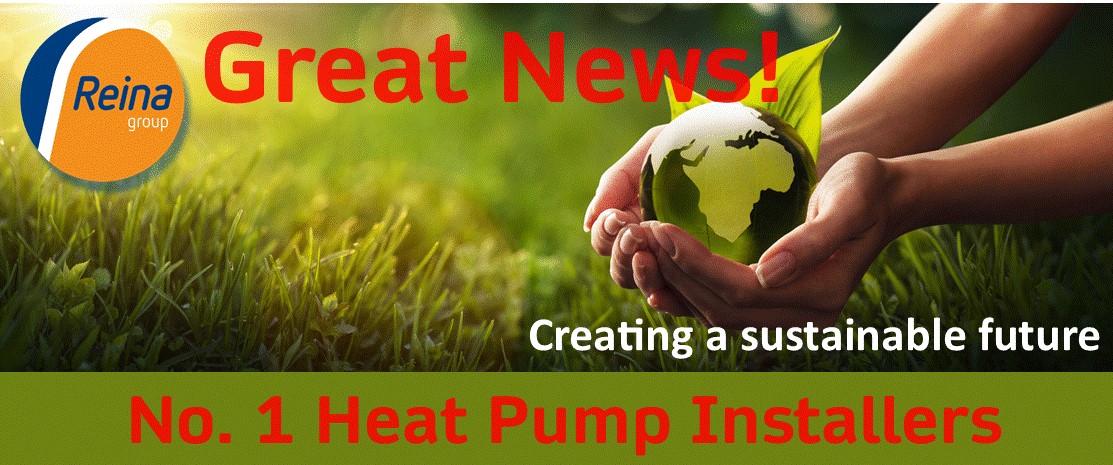 The Reina Group are delighted to join forces with Ovo Energy as part of a zero-heat trial, installing renewable heat pumps in homes.  "We have always believed that renewable heating is the right direction to go in and we are really excited about being involved in this project." comments Ricky Reina, MD.
OVO Energy have committed to halving their customers' total carbon footprint by 50% by 2030. To do this they need to adopt decarbonisation technologies, such as the electrification of heat, at scale.
The decarbonisation of electricity is a great success story. But there's a sizable obstacle on the road ahead – in the shape of a gas boiler. 85% of the UK housing stock4 is heated with gas central heating, with each of these emitting carbon dioxide. Collectively this represents over 15% of the UK's carbon emissions5.
In pursuit of the electrification of heat – The Zero Carbon Heat Trial 
The Zero Carbon Heat Trial aims to demonstrate how OVO Energy can swap fossil fuels for cleaner, cheaper, easier to use heating that is powered by renewable electricity.  As part of this trial, they are installing up to £15,000 worth of tech, including air source heat pumps, ground source heat pumps, thermal batteries and additional energy efficiency upgrades into 250 people's homes to learn about how these technologies work in practice as part of a smart, flexible energy system – from install to use and maintenance – to accelerate the evolution of low carbon heat technologies and get them to market scale faster. And it's about more than just proving that heat pumps work.  The Zero Carbon Heat Trial will demonstrate how Kaluza's flexibility platform and thermal batteries (like those made by Sunamp) can harness the power of innovation and smart technology to improve the customer experience and lower running costs.
What can be achieved with the Zero Carbon Heat Trial: 
250 participants installed with renewable heat + energy efficiency upgrades, demonstrating innovations to overcome large scale deployment of heat pumps.
Gained invaluable insights into customers behaviour and collecting data relating to the optimisation of heat pumps.
Lessons learned in the practicalities of surveying properties, specifying energy efficiency measures, and installing zero-carbon heating solutions.
What's next, Plan Zero – Driving Progress to Net Zero Carbon Living: 
Achieving these objectives would be big wins for delivering Plan Zero, a  10-year strategy to drive carbon emissions out of our business and our customers' home energy. Whilst there is no silver bullet, and electric heating will no doubt be part of the solution rather than all of it 12, this trial has the potential to solve the tricky problem of decarbonising heat. And that will bring all of us one step closer to net zero carbon living.
For more information about Ovo Energy's Trial please follow this link:
https://www.ovoenergy.com/blog/ovo-news/zero-carbon-heat-trial-why-electrify-heat.html