Why Should I Consider A Heat Pump?
Cost Efficiencies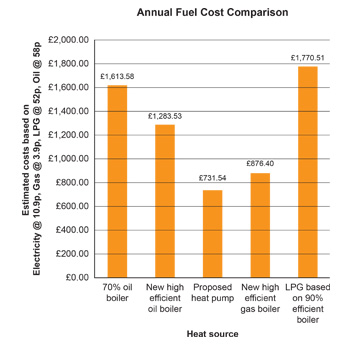 Heat pumps bring savings on current and future fuel costs because they are much more efficient than the traditional alternatives. The latest technology for traditional oil, gas or liquid petroleum gas (LPG) boilers can only return a maximum of 90% efficiency. A heat pump on the other hand can return efficiencies up to 400%. This means that for every 1kW of electricity you put into running a heat pump you could get up to 4kW of space heating returned for a gshp, and 3kW for an ashp.  The graph alongside compares the costs of heating a typical domestic property based on an annual heating requirement of 20,000 kWhr.

For this example, we have assumed the price of fuel Oil is 58p/ litre, LPG is 52p/ litre, Gas is 3.9p/ therm and electricity is 10.9p/ kWhr.  As energy prices increase in the future, these savings will increase even more.

In addition to the fuel cost savings, heat pumps have a high reliability and have a much longer operating life than traditional boilers.
Government Financial Incentives
The Government is committed to reduce the country's CO2 emissions to comply with our reduction targets as part of a global reduction ratified under the Kyoto Agreement.  To help achieve this, the Government will reward individuals who pay to install and run renewable energy sources, including air and ground source heat pumps. There are a number of different financial incentives available, the main ones are listed below
• The Renewable Heat Incentive (RHI) Tariff
• The Green Deal
• Reduced rates of VAT
For full details of the Renewable Heat Incentive Tariff and Green Deal, please visit the official website on https://www.gov.uk/government/publications/2010-to-2015-government-policy-low-carbon-technologies/2010-to-2015-government-policy-low-carbon-technologies#appendix-6-renewable-heat-incentive-rhi and follow the relevant links.

The Renewable Heat Incentive (RHI) Tariff is a Government initiative whereby they will pay you a tariff payment each year for a set period depending on the technology chosen and energy savings made.  The RHI for commercial applications has been running for a while and implemented for domestic properties from 9th April 2014 with tariffs released by the government on 12th July 2013. For an explanation of the RHI, please click on the video link at the bottom of page below.
The RHI will be paid to the owner of the heating system at a set rate per unit of renewable heat produced (kWh) for seven years. For air source heat pumps (ASHP) the rate is 7.3p / kWh and for ground source heat pumps (GSHP) is 18.8 p / kWh.
To qualify for the RHI an installation must be certified under the microgeneration certification scheme (MCS). The Reina Group are approved MCS registered installers and all our heat pump installations will meet this requirement. In addition, all heating systems work more efficiently in a well insulated home. The government therefore requires that to qualify for RHI payments, all applicants must complete a "Green Deal" assessment before applying and ensure they have met minimum energy efficiency requirements of loft & cavity insulation where recommended by the Green Deal assessment. You can find out more about the Green Deal in the section below:-
All heat pumps installed after 15th July 2009 will be eligible to receive the RHI , provided , of course , they meet the qualifying criteria. An air source heat pump installed in a well insulated property of circa 200m2 with an annual energy requirement of 21,000kWh, will be entitled to an annual RHI payment of £1,082 per annum for seven years (ie a total of £7,574 over the full period based on a 5* rating)
Alternativly, a ground source heat pump installed in the same property would receive £2,985.00 per annum for seven years (ie a total of £20,895 over the full period). The different RHI payments are designed to reflect the increased costs associated with installing a ground source heat pump.
The Green Deal is a government scheme designed to enable you to make energy saving improvements to your home without having to pay all he costs upfront. It is an innovative financing mechanism whereby the costs of installing energy efficiency improvements, including Heat Pumps, are met by means of an extra charge on the householder's normal energy bills. The concept is that the extra charge on fuel bills will be offset by the reduction in fuel costs as a result of greater fuel efficiency. Additionally, if the house is sold, responsibility for future payments passes to the new owner. For full details of the Green Deal follow this link www.decc.gov.uk, and click on the relevant section.
The rate of VAT applicable to heat pumps and their installation is currently at the Reduced Rate of 5% rather than the Standard Rate of 20%.
Environmental
By using natural energy from the air or ground, heat pumps produce only a fraction of the CO2 emissions of traditional technologies, hence the reason the Government is so anxious to promote them.
Additionally, in the case of oil, there can be significant environmental pollution in the case of a spillage or leak.
Safety
Heat pumps eliminate the risk of gas explosions or carbon monoxide poisoning.
Traditional oil and gas boilers have to operate at very high water temperatures. This carries with it the risk of burns or scalding from hot water or radiators, especially where young children are around. Heat pumps are able to operate at much lower, and hence safer, water temperatures. This lower temperature operation also improves system efficiencies.